Domain Names
A domain name is an identification string that defines a realm of administrative autonomy, authority or control in the Internet. Domain names are formed by the rules and procedures of the Domain Name System ( DNS ).

Domain names are used in various networking contexts and application-specific naming and addressing purposes. In general, a domain name represents an Internet Protocol ( IP ) resource, such as a personal computer used to access the Internet, a server computer hosting a website, or the website itself or any other service communicated via the Internet.

The registration of these domain names is usually administered by domain name registrars who sell their services to the public. -- Wikipedia
Domain Names Explained
Currently, there are over 159 million registered domain names in the world, and rising.
In the easiest of terms, a domain name acts similarly like the address on your residence. Every dwelling, business or building that wants postal mail to be able to be delivered to it, requires a unique postal address that is generated by the USPS and / or local government. The postal service and ultimately, your local letter carrier understands that addressing system and delivers your mail straight to your doorstep.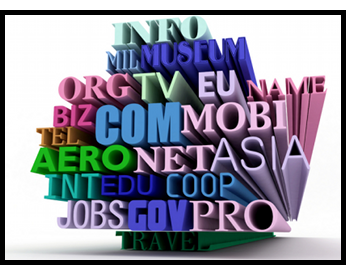 Domain names are addresses for specific areas of the Internet. If you require a website, you must have a domain name, so your marketplace can find you and come to your doorstep.
More technically, domain names are word strings that are easily recognized and remembered by humans, that are then transformed into IP ( Internet Protocol ) addresses that are easily recognized by computers. IP addresses are a basic collection of binary digits, ones and zeros, in a long string.
Ones & Zeros. 10011011 . They are the only two things that computers actually understand -- ones and zeros -- representing on and off. That is it !
Domain Name System ( DNS )
Domain names are controlled by the Domain Name System ( DNS ) and are serviced through thousands of Domain Name Registrars who charge a fee for their services of registering and providing the usage of a unique domain name by any entity.
Domain names are usually contracted for and renewed on a yearly basis and costs range from around $ 15.00 to absolutely nothing, depending on the package that you contract into with your Domain Name Registrar. Most registrars also provide web hosting as a part of their services and package the domain name registration, sometimes for free, into your web hosting contract with them ( see the red box above ).
It is not necessary that the Domain Name Registrar and the Web Hosting Services Company be the same entity. There are two schools of thought here. One suggests that an entity use a single company for both their Domain Name Registrar and Web Hosting, because if problems arise, and there can be problems, only one customer service department need be contacted for the solution. The other says that putting ones eggs, all in one basket, is inherently a problem, and these services should be separated. An entity must weigh the pros and cons each way and decide for themselves their appropriate direction here.
Domain Names Governance
The control of the Domain Name System is by the not-for-profit, public-benefit corporation, ICANN, which is short for Internet Corporation for Assigned Names and Numbers. You can be redirected to ICANN here, for more information from them. Specifially, your Rights as a Registrant can be located on ICANN here.
WhoIs Domain Lookup Service
To conduct a search for your own unique domain name, you can be redirected to the WhoIs services at InterNIC.net. WhoIs services provide public access to data on every currently registered domain name, any where. If your search on InterNIC returns no resultant information, then that domain name is available to be registered for your useage.
GoDaddy also has an informative and interactive lookup service that you can dive into at the top of this webpage. Just type in the domain name that you are curious about, and follow the instructions for your searching. You are not required to purchase from them to use their lookup services and search.
The Top US Domain Name Registrars
Registrar

Registrar URL


HQ Location

Domains

( in Millions )

*Wild West Domains is a part of Go Daddy Operating Co.

Go Daddy

Scottsdale, Arizona

50.7

eNom

Redmond, Washington

11.3

Network Solutions

Herndon, Virginia

6.2

Wild West Domains*

Scottsdale, Arizona

3.4

Register

New York, New York

2.3

Fastdomain

Provo, Utah

2.1
These are just the top US registrars who service over 2 million domains. There are literally thousands of companies that provide these services, all over the world. Please feel free to ask around and / or do your own research into these services businesses.
Domain Name Registrars
RE: has an affiliation with 8 Domain Name Registrars / Web Hosting Services Companies and their advertising banners are shown on some of our website pages. They are HostGator, Bluehost, SiteGround, Network Solutions, Register, 1 & 1, InMotion and GoDaddy. You can link to them directly through these banner advertisements with a simple click. We believe that these companies are the best in their fields.
5 of these companies were our finalists for registering / hosting this RE: website. At the time of beginning our website, we obtained our best packaged deal from HostGator, but we would have contracted with any of those companies as we think they were the best for our given situation.
RE:'s current Domain Name Registrar is GoDaddy and we have had clients doing business with HostGator, Bluehost, Network Solutions, 1 & 1, Register, and GoDaddy.
But, there are literally thousands of companies that provide these services throughout the world. Please feel free to ask around and / or do your own research into these varied domain name businesses.
RE: is happy to assist you in walking through this process with you. Ultimately, you, the website owner, needs to go through the necessary steps to register your own domain name. It is far too valuable to trust this important step to an outside entity. Please contact us with any questions or concerns that you may have.