Village & Valley !
RE: is pleased to announce our association with Village & Valley !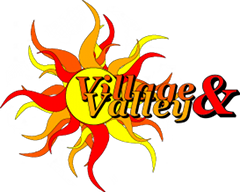 Over the next several months, RE: will be utilizing our full spectrum of services to fulfill Village & Valley's entire business presence requirements. These services will include website design, development & SEO, content management, and graphic design, including designing their logo ( the first iteration is shown on the right ), favicon, business cards, stationary & other marketing materials. A limited introduction of Village & Valley's business will begin in the summer of 2012.
Village & Valley will be a new business that endeavors to provide an affordable, local, community voice and exposure for businesses in the Phoenix Metropolitan region. A localized Yellow Pages or Yelp, if you will, only at a much more inexpensive cost.
RE: looks forward to this alignment and will be working hard to complete all of Village & Valley's business presence needs.
Stay tuned for more information !