Find A Great (Web) Host !
A web hosting service is a type of Internet hosting service that allows individuals and organizations to make their website accessible via the World Wide Web. Web hosts are companies that provide space on a server owned or leased for use by clients, as well as providing Internet connectivity, typically in a data center. Web hosts can also provide data center space and connectivity to the Internet for other servers located in their data center, called colocation, also known as Housing in Latin America or France.

The scope of web hosting services varies greatly. The most basic is web page and small-scale file hosting, where files can be uploaded viaFile Transfer Protocol (FTP) or a Web interface. The files are usually delivered to the Web "as is" or with minimal processing. Many Internet service providers (ISPs) offer this service free to subscribers. Individuals and organizations may also obtain Web page hosting from alternative service providers. Personal web site hosting is typically free, advertisement-sponsored, or inexpensive. Business web site hosting often has a higher expense.

Single page hosting is generally sufficient for personal web pages. A complex site calls for a more comprehensive package that provides database support and application development platforms (e.g. PHP, Java, Ruby on Rails, ColdFusion, or ASP.NET). These facilities allow customers to write or install scripts for applications like forums and content management. Also, Secure Sockets Layer (SSL) is typically used for e-commerce.

The host may also provide an interface or control panel for managing the Web server and installing scripts, as well as other modules and service applications like e-mail. Some hosts specialize in certain software or services (e.g. e-commerce), which are commonly used by larger companies that outsource network infrastructure. -- Wikipedia.
Web Hosting Explained
Every website has it's contents, the things that you are trying to say and display to your local market or the general public. Those contents have to be stored and organized on a hard drive somewhere, that is accessible to everyone that is trying to find and use it, anytime, night or day. 24 / 7 / 365.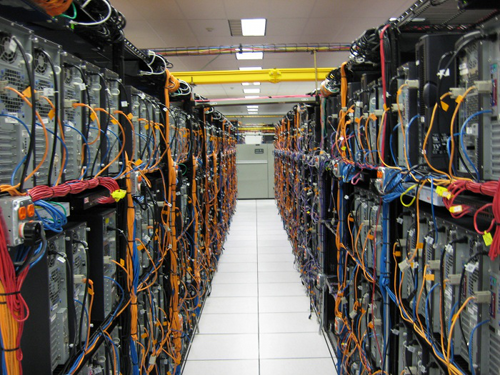 Web Hosting Companies provide those services. They make the hard drive storage space available, provide and place organizing systems for your content in that space and make your content accessible via the WWW to whomever wants to utilize it, anywhere, anytime. This space and contents are organized using your domain name so that your community can find what they need, when they need it.
To the left is a typical arrangement of racks upon racks of servers, which are the storage hard drives and their systems, that help them interact and communicate with the WWW. These rooms are kept very clean and also cold, like a cave, as there is a bunch of electricity running round and round, making everything hot. Lots of hard drive space, wires, power & A/C.
That isn't the floor that you are looking at. That is a raised access floor over the top of the real concrete floor. Wires come in from the top & bottom. What looks like a walking aisle surfacing of some sort is actually perforated panels in the raised floor. A/C is coming up out of the floor. Think, Marilyn Monroe.
Web hosting packages range widely in cost depending upon your website size, security needs and the potential traffic that your website needs to service. Simple websites with minimal traffic would cost around $ 5 and under per month. A decent sized business website, maybe $ 10 to $ 30 per month. And even larger, obviously more cost. Payment periods and contract lengths also vary between companies. Packages can also be upgraded or expanded as your business grows.
Most Web Hosting Services Companies are also Domain Name Registrars that offer solutions in a package for complete website publishing onto the Internet.
Important Considerations
Hosting Types
There are many different types of hosting services that can be offered. Wikipedia has great definitions of these different types at http://en.wikipedia.org/wiki/Website_hosting, about half way down the page. One can then follow each item into a further detailed explanation of them. The website owner must have this general knowledge in order to make an informed decision on what they are going to be contracting for with their web hosting services company. A simple website needs a simple shared hosting type which will cost them little per month. A more complex situation may require dedicated hosting which will cost more.
Uptime
If your website can not be accessed by your community, it is not worth much. But nothing is perfect. Most web hosting services companies advertise 99.9 % Uptime Guaranteed. What does this mean ? Basically, outside of periodic scheduled maintenance on your server ( which your web host should be informing you about ), your website will only be "down", 9 hours per year. I believe that most folks can live with that website situation.
To the right is the current uptime for the Rinehart Enterprises website on HostGator.
Money Back Guarantee
Most reputable web hosts offer money back guarantees that range from 30 to 90 days. If there is no money back guarantee, caveat emptor !
Domain Name Package
This can be an important pricing item for some. Some web hosts offer free domain name registration within their package for web hosting services. As long as you continue hosting with them, your yearly domain name registration is gratis.
Customer Service
This is the most important consideration. Quality customer service is a must. Previously said, nothing is perfect. When things go wrong, and they will occasionally go wrong, can you get answers to your questions ? Is there a 24/7/365 customer support system in place ? Can you call a toll free number or get an online chat going ? They are defined as web hosting SERVICES companies, after all. So I will say it one more time -- Quality customer service is a must !
The Top US Web Hosting Services Companies
Web Host

Host URL


HQ Location

Domains

( in Millions )

*Wild West Domains is a part of Go Daddy Operating Co.

Wild West Domains*

Scottsdale, Arizona

34.6

eNom

Redmond, Washington

3.1

Network Solutions

Herndon, Virginia

3.0

1&1

Chesterbrook, PA

2.8

HostGator

Houston, Texas

2.1

Bluehost

Provo, Utah

1.8

Register

New York, New York

1.6
These are just the top US web hosts who service over 1.5 million domains. They are also the top 7 web hosts in the world. But, there are literally thousands of companies that provide these services, all over the world. Please feel free to ask around and / or do your own research into these services businesses.
Most Importantly !
The boss needs to contract for these services ! Jefe Grande. When it comes time to renew these services in the future, you want the email notice coming to you. If you delegate this to someone else, and they drop the ball, your domain name could be lost to someone else and your website is gone. If you want something done right, do it yourself ! Nuf said.
Conclusion
Get quality customer service, 24/7/365. Only pay for the type of service that you require. Get on it Boss !
We hope this blog has helped you !
Please add your comments to this blog below, if you wish.
About the Author

Bradley S Rinehart, Principal, Webmaster, Designer, Copywriter
Rinehart Enterprises | Phoenix, Arizona
www.rinehartenterprises.com
Rinehart Enterprises, aka, RE:, are Business Presence Consultants
Designing Complete Presence For Business !